Get the most of what you do best with Business One!
Digitally transform the way you manage your business and clients with Business One! As an accredited re-seller, implementation and support partner for SAP Business One in South India, we guide you through the entire solution lifecycle and ensure that it's completely optimized for your business processes. 
Our deep technology knowledge combined with many years of experience in ERP implementation, allow us to work with clients from a diverse range of industries in South India including financial services, consulting, manufacturing, construction, textile, retail, packaging, healthcare and various others.
SAP B1 Cloud
Experience the power of SAP B1 on the Cloud platform. It help organisations to minimize their IT setup cost and gain easy access to all the critical business information from anywhere.
SAP B1 Reporting & Analytics
SAP Business One Reporting and Analytics tools provides real-time analysis of information from multiple sources and helps business owners make well-informed and timely decisions.
SAP B1 Implementation
Our SAP Business One implementation strategy is based on the industry best practices, clubbed with our long-standing experience in ERP deployment across different verticals.
SAP B1 Custom Solutions
We understand that your business is unique and so are your requirements. Our SAP B1 customisation service ensures that the offered solution closely meet your organisational needs.
SAP B1 Support Service
Our client commitments doesn't end with implementation, but we continue to work closely with our clients to offer periodic updates and ensure that the solution runs without any issues.
SAP B1 Licensing
ISys Techworks offer SAP Business One license both for On Premise and Cloud platforms. Reach us on info@isystechworks.com to know more about license type and terms.
SAP Business One - Key Capabilities
It's got everything that you need to manage all your key business areas - from accounting and financials, sales and customer relationships, project management, to operations and human resources, all in one place.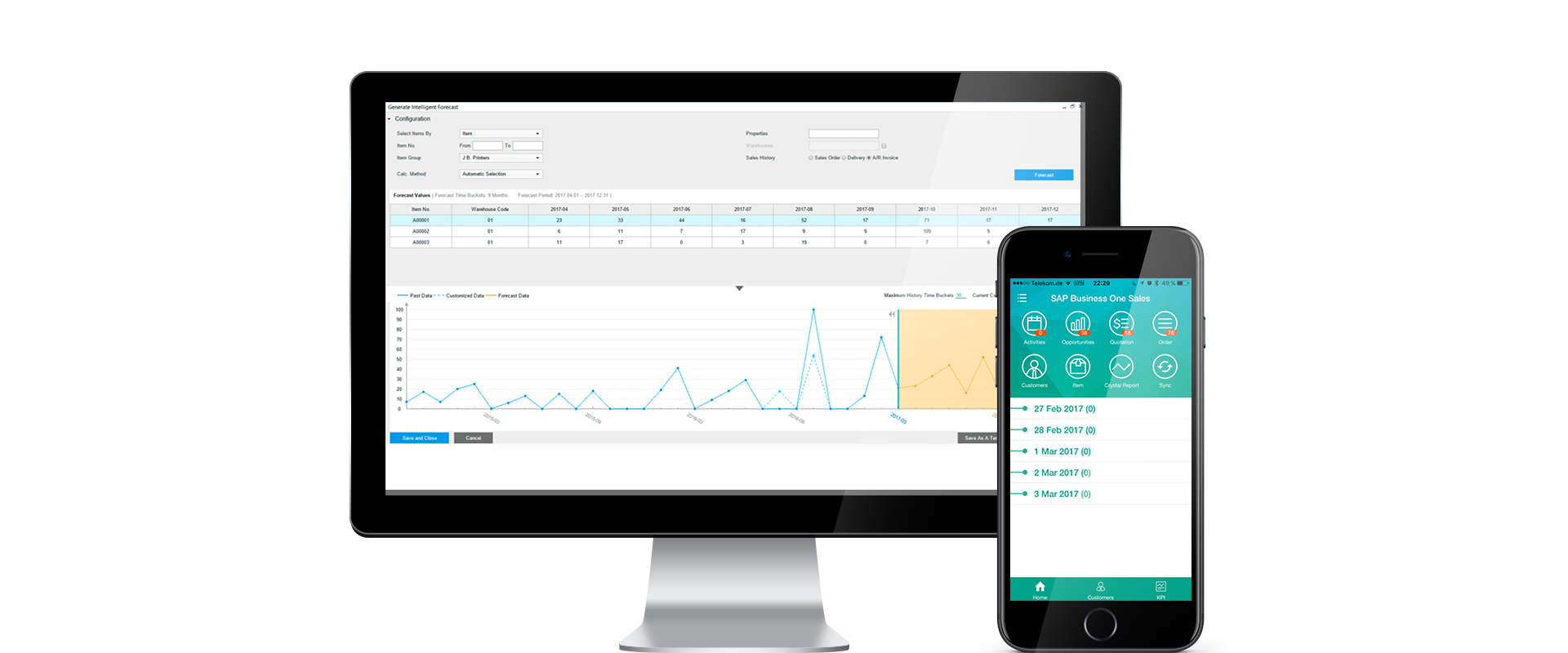 Financial management
Bid adieu to spreadsheet-based financial management processes! Automate and unite all your financial operations including accounting, banking and others with one integrated ERP solution.
Sales and customer management
With SAP Business One, you'll never miss an opportunity to close a deal! View and manage your entire sales process and customer lifecycle efficiently from one integrated platform.
Purchasing and inventory control
Centralize purchasing processes and effortlessly manage the order-to-pay cycle while reducing inventory cost by having accurate insights into shipments and inventory levels.
Analytics and reporting
Powered by SAP HANA, it automatically pulls data from multiple sources and comes up with insightful reports made of data visualizations, infographics and view reports on your dashboard.
Business intelligence
Eliminate guesswork and start making quick and confident decisions based on actionable information from SAP Business One's integrated business intelligence tools.
Industry-specific ERP
Whether you are into manufacturing, trading or services industry, SAP Business One has industry-specific solutions and add-ons that suit your specific business requirements.
SAP Business One - Product Demo Videos
Find out what's exciting about 9.3
Take a look at the new features and updates that are part of the new SAP Business One 9.3 release.
Request your free consultation today!
Let our ERP experts analyze your business and suggest ways to improve your business processes and profitability.